This post may contain affiliate links. Please read our disclosure for more info.
Looking for the perfect yoga workout for weight loss that's beginner friendly and saves you time? We got you! When I first started yoga years ago, I started it with the intention to reduce my anxiety and stress, but was secretly hoping it would help me reach my physical goals as well.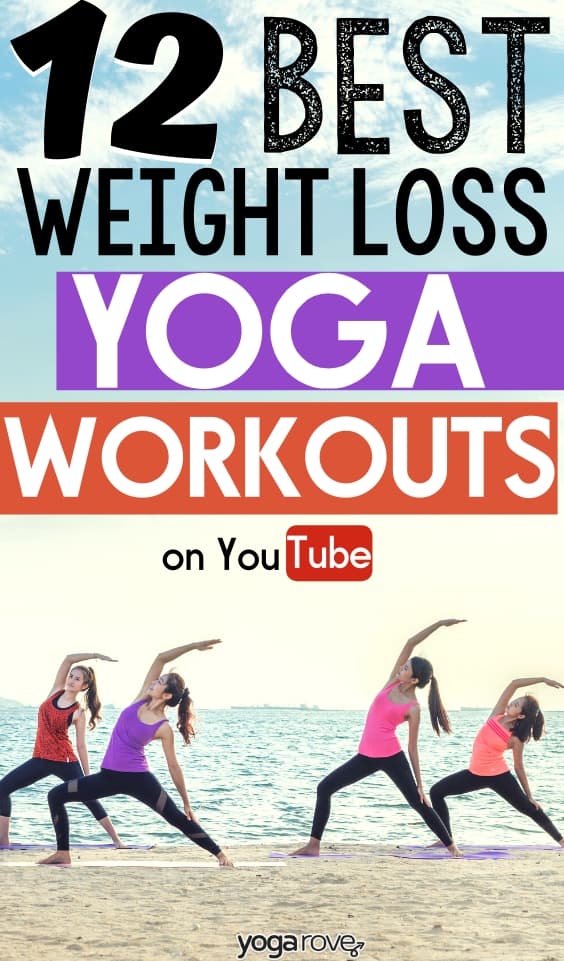 Can you lose weight with yoga?
Yes, you absolutely can. But it wasn't until I found the right kind of yoga for me that I began seeing physical results.
There's so many different types of yoga, and although yoga in general is effective in helping you lose weight and tone, the types of movements you do and how you do them do play a big part in how fast and intense your results will be.
The reason yoga works so well for weight loss is because it is a body weight based workout that helps turn body fat into lean muscle mass, which in turn boosts your metabolism, making losing weight easier.
But the type of yoga you do and how often you do it matter immensely when it comes to meeting your weight loss goals.
Which type of yoga is best for weight loss?
Naturally, a faster, more intense style of yoga is going to give you better weight loss results than a slow, relaxing practice. Scientifically, yoga puts you on the road to weight loss just by decreasing your stress and promoting mindful eating, but if you really want to see good results, you need to activate your muscles and get your heart rate up.
One of the absolute best, and most popular types of yoga in this region for its ability to shape and sculpt your body while having a fun, flowing class, is vinyasa yoga. Vinyasa yoga simply is a type of yoga that involves a set of postures that create a "flow". Typically, it start with a gentle warm up, goes through a through cycles of poses called "vinyasas", then winds back down with relaxing poses.
Vinyasa yoga tends to be different every time, and allows you to really get creative with your routines. They can incorporate so many combinations of poses and movements, it honestly becomes fun not knowing what's next!
In our free resource library, the majority of our weight loss flows are based on the vinyasa practice. I think practicing this way has so many benefits, and makes getting in shape fun! You can check out that routine by signing up for our free resource library below!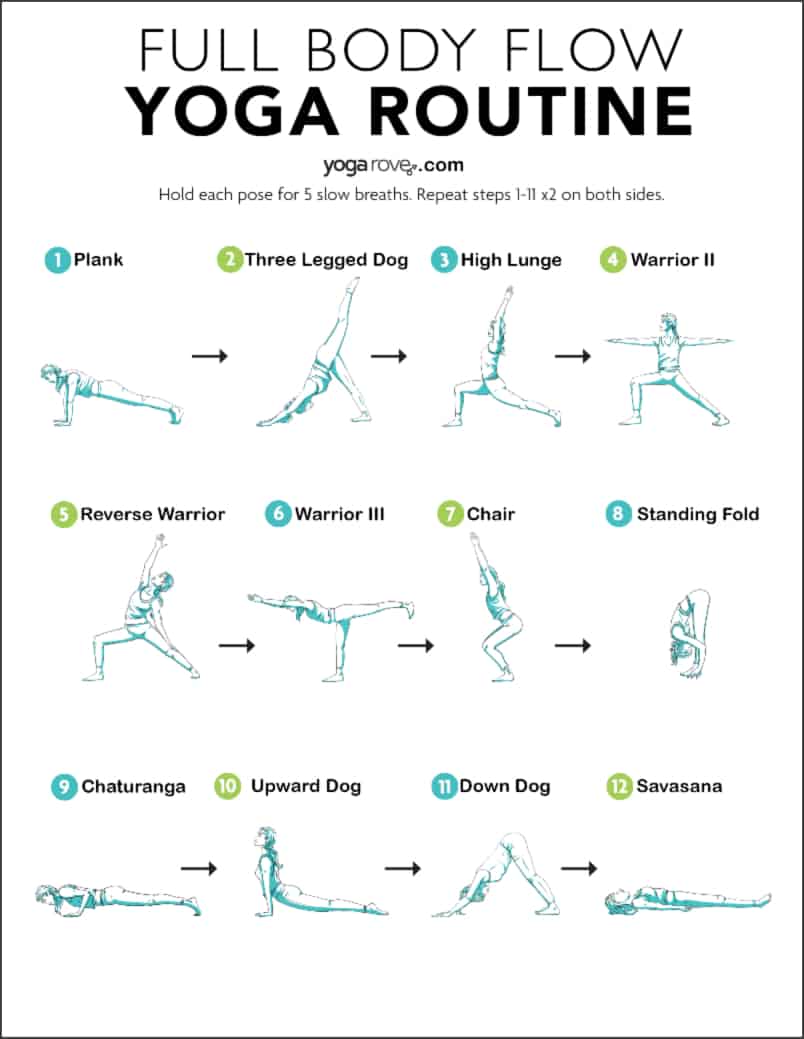 You can check out the full article that explains the step-by-step poses of the full body yoga workout here.
These following yoga videos are great to start with when you need a little motivation to get on your mat. We've organized them by length of time, and tried to find a couple for each time frame, for those days you only have ten minutes to get a yoga workout in! Let's get to it:
10 Minute Yoga Weight Loss Workouts
1.10 Minute Yoga Workout Lose Your Belly Fat by Your Yoga Gym
This 10 minute yoga workout will have you sweating in minutes, seriously! Jenna places a strong focus on working your core, so if you're specifically looking to target belly fat, you'll love this routine. It also helps that Jenna's personality is super endearing and she makes the 10 minutes go by really quick while having you laugh along the way!
This is a great routine to practice every morning to boost your energy levels and get your metabolism going, or if you aren't up to doing a full workout. No matter what kind of day you're having, I know you have 10 minutes to spare!
Time: 10 minutes
Other benefits: Works on toning your abs while promoting fat loss and getting a good, short cardio session in.
2. 10 min Sun Salutation Practice by Yoga With Adriene
Sun Salutations are one of the best ways to get your heart rate going and burn fat. This is how I started my own yoga practice at home!
Sun Salutations are simply a series of poses in a sequence you complete to create a flowing movement. They are great for improving flexibility, losing weight, and boosting the metabolism.
You can choose to do one round, or repeat multiple rounds on each side. Since the sequence is always the same, you have complete control over how long the routine is!
Time: 10 minutes
Other benefits: Helps you learn the basic poses of yoga and develop a great base for your yoga practice, while helping you build strength and improve your flexibility.
13-15 Minute Yoga Weight Loss Workouts
3. 13 Minute Quick and Effective Weight Loss Yoga Workout by Boho Beautiful
Boho Beautiful is widely known for her intense, short cardio flows, hence why she calls this workout quick and effective. In just 13 minutes you'll be sweating and challenging your strength and endurance. She holds a great pace that's perfect for beginners, and incorporates challenging transitions to work your core.
Time: 13 minutes
Other benefits: Works on your endurance by holding a few postures a bit longer and giving you the option to try more advanced variations.
4. 15 Minute Morning Yoga for Beginners- Weight Loss Edition by Sarah Beth Yoga
This morning weight loss yoga workout by Sarah Beth Yoga is made specifically for beginners, and includes tons of modifications for poses to help you get through it. Her pace is a bit slower than other routines, which is great if you are not yet familiar with the poses.
Time: 15 minutes
Other benefits: Focuses on proper alignment which is perfect if you are just starting out.
20 Minute Yoga Weight Loss Workouts
5. 20 Minute Beginner Vinyasa Yoga Flow for Weight Loss with Julia by PsycheTruth
You'll be doing tons of downward dogs in this sequence, so get ready! The instructor goes through this flowing routine at a beginner's pace and provides transitions that aren't overly challenging. Another bonus is she goes through how to properly do each pose and explains how your alignment should during each.
Time: 20 minutes
Other benefits: As most vinyasa classes do, this workout will work on your cardio and get your heart rate up in a short amount of time! This vinyasa flow is great for beginners because it doesn't go overly fast and incorporates basic poses.
6. 20 minute Yoga for Weight Loss Workout by SarahBethYoga
Here is another video from Sarah Beth Yoga that is a bit longer, and a bit more advanced. Sarah Beth places a large focus on the breath here, but also incorporates multiple "vinyasa", which is the flow from chaturanga to upward facing dog to downward facing dog. This gives a great cardio workout and works your entire body.
Time: 20 minutes
Other benefits: Works on your flexibility, and is also vinyasa beginner flow style, which will give you a great workout while still giving you enough time to settle into each pose.
25 Minute Yoga Weight Loss Workouts
7. 25 Minute Complete Beginners Fat Burning Workout at Home, Exercise Routine by PsycheTruth
This workout is pretty gentle compared to the rest of the list, but make no mistake: the title states what it does! You will focus immensely on the core to lose stubborn belly fat by performing structured movements that will get your heart racing without doing intense cardio.
Salena, the instructor in this video, is also so motivating! She constantly reassures you and pushes you to keep going all the way until the end!
Time: 25 minutes
Other benefits: This is a surprisingly relaxing yoga workout, but at the same time will make you completely feel muscles you've never felt before! You'll feel relaxed, rejuvenated, but still kinda sore.
8. 25 Minute Beginner Cardio Yoga Flow by Silke Dewulf
Silke provides a great cardio flow for beginners by incorporating simple poses with smooth transitions. She explains proper alignment in each pose and goes at just the right pace to provide guidance for each pose while still giving a great workout.
Time: 25 minutes
Other benefits: Beginner friendly and accessible for any level yogi who wants to get their daily cardio workout in at home. Silke incorporates a bunch of twists in this routine which will open up your side body and wake up your spine.
30 Minute Yoga Weight Loss Workouts
9. 30-Minute Power Yoga Flow For Tight Abs and a Toned Butt by PopSugar Fitness
If you're looking to get super toned and improve your flexibility at the same time, try out this 30 minute routine! Although this is a full body workout, the main focuses are the core and glutes, and who doesn't want rock hard abs and a nice butt?
Time: 30 minutes
Other benefits: This workout is non-stop! No breaks, just an intense, but beginner friendly workout to get you super sweaty and pumped in 30 minutes! If you want to see more defined results in a short amount of time, definitely add this one into your weekly set up routines.
10. 30 Minute Low Impact Dance Flow Yoga by FemFusion Fitness
I had to add this one in because it looks so fun! Femfusion does a great job making working out enjoyable, even at 30 minutes long. You will do tons of yoga poses infused with pilates moves and add a bit of rhythm to go along with it.
Time: 30 minutes
Other benefits: If you get bored easily and find it hard getting through a workout, try this one out! You are constantly moving and doing new moves, so it will keep you guessing at what's coming next.
40-45 Minute Yoga Weight Loss Workouts
11. 40 Minute Fat Burning Yoga Workout by Yoga With Adriene
The wonderful thing about Adriene's channel is she makes every pose beginner friendly, so you will have tons of options for modifications to suit your level in this 40 minute yoga workout. Adriene is also deceptively good at making a difficult yoga workout go by super fast, this is why beginner yoga for weight loss is possible.
Time: 40 minutes
Other benefits: There's a strong focus on doing what feels good for your body and being dynamic in the poses instead of staying in still holds. This is great for extra calories burn and helps relieve tightness as well.
12. 45 Minute Total Body Workout by FightMaster Yoga
This is another vinyasa style flow that is great is your goal is to lose weight with yoga. The instructor goes in cycles between poses that work on building strength and endurance, which are big factors in losing weight! She also makes the 45 minutes go by incredibly fast.
Time: 45 minutes
Other benefits: You'll go through many basic yoga poses a few times, so by the end of this you should have a solid foundation of how you should feel in each pose as well as build up your endurance to holding each pose longer.
I hope these recommendations were helpful to you! If you tried a couple of them out, let me know in the comments below!
Check out our Free Resource Library for tons of free yoga printables for you to print and take your practice anywhere!