This post may contain affiliate links. Please read our disclosure for more info.
I think it's safe to say that everyone would like a nice, toned stomach. A lot of people actually look into yoga because they hear about how well it can work your core.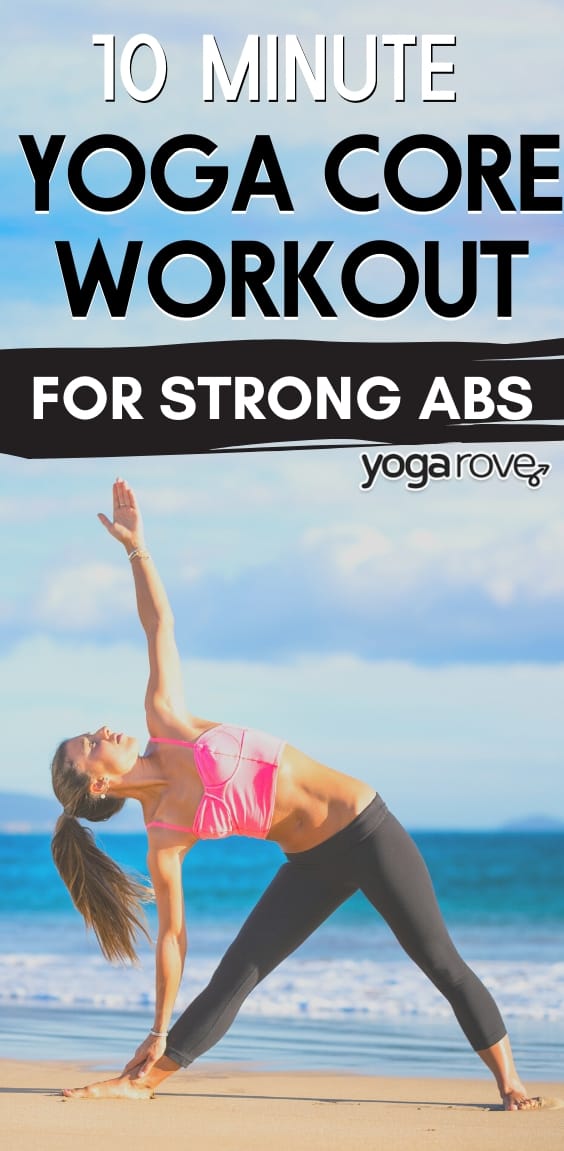 I see tons of yoga routines online, but the problem I see is that most of them don't flow. The poses are very difficult and awkward to transition to, which causes you to slow down and can actually hinder the amount of fat you burn.
We created this beginner yoga sequence to give you a great workout for your core and burn fat in a short amount of time. It is made up of multiple mini flows, that you will then go back through after you finish one round. The sequence goes like this:
Rest
Once you get to the fifth step, the sequence repeats 3 times, doing a total of 4 rounds before you get to Boat Pose and Leg Lift Hold.
This creates a vinyasa flow, which is the best type of yoga to practice to lose weight and tone your body.
Things to remember during this sequence:
Pay attention to your breath, and use it to flow evenly through the poses
Completely activate your muscles in every pose, especially your core. Don't let parts of your body just hang.
Listen to your body and take a break when needed! It's completely okay to stop for a 30 second-1 minute child's pose in between rounds.
1. Cat- Cow Crunches
Instead of doing a traditional cat-cow flow, try adding in a crunch when you going into your cat pose to work the core.
Start on all fours with hands under shoulders and knees inner hip distance apart.
Come into cow pose on your inhale by dropping your belly, arching your back, and lifting your gaze slightly upwards.
On your exhale, come into a "cat crunch" by rounding your back and hollowing out your belly, while bringing one leg into your core and pulling your head and knee towards each other, forming a crunch.
Go through this flow with your breath for about 15 seconds.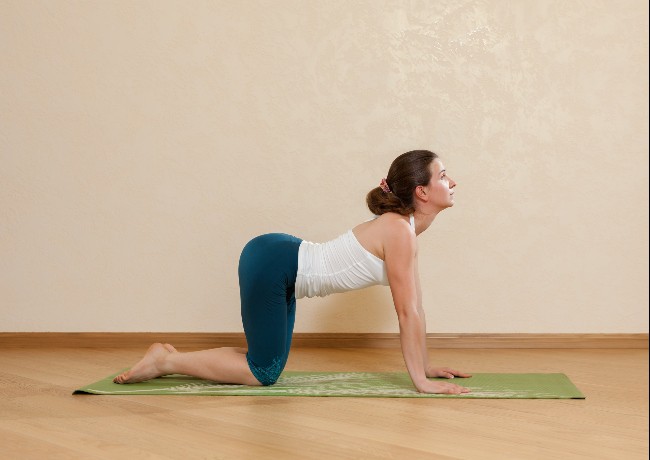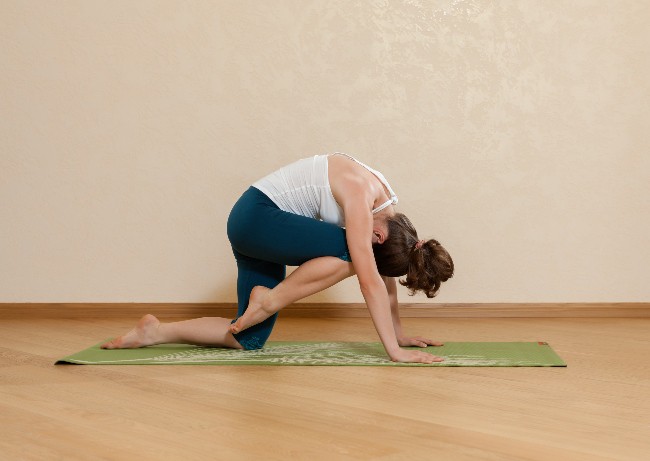 Related Article: 7 Yoga Poses to Strengthen and Tone Your Core
2. Side Plank
In order to get a nice, flat and toned stomach, you need to work multiple parts of your core. Side plank focuses on the obliques, the muscles on either side of your abs. Doing this pose can actually help slim your waist out as well by burning that stubborn side fat.
Come into a traditional plank pose, making sure shoulders and wrists are stacked, and core is activated.
Rotate onto the outer edge of your right foot, coming to support yourself on just your right arm, lifting your left arm up towards the ceiling.
Engage you core and make sure not to let your side sag towards the ground. Keep lifting through your side body to really activate the obliques.
If at first it is too difficult to do this pose, you can drop your bottom knee to the floor to make it less intense.
Hold for 15 seconds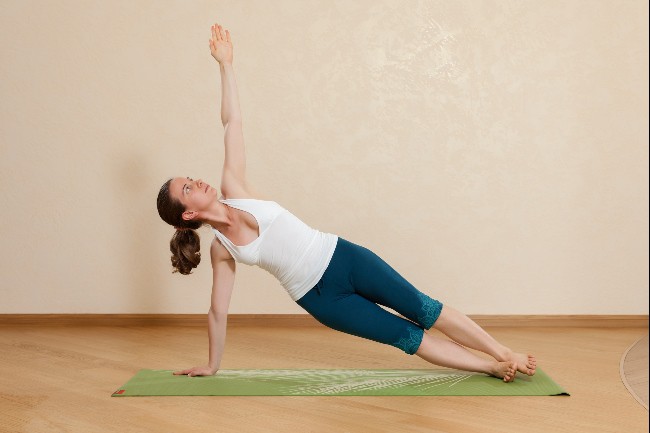 3. Plank to Upward Facing Dog to Downward Facing Dog
This is a popular vinyasa flow that is included in many yoga studio classes. I love this flow because when you do it properly, it makes you feel strong and energetic. It is also amazing at working your core!
First, start in traditional plank pose with your hands and shoulder in line with each other, and your entire body activated.
Bend your elbows, hugging them tightly into your sides as you slowly propel slightly forward and lower yourself into a hovering plank, or Chaturanga. Don't let your chest collapse! If you find Chaturanga too difficult at the moment, drop your knees, still keeping everything engaged.
Now flip your feet so the tops of your feet are touching the ground. If you are in Chaturanga, don't let yourself come to the floor. Straighten your arms and arch your back, coming into Upward Facing Dog. Let your gaze go towards the ceiling.
Flip your feet back so you are on the balls of your feet as you push your hips up and back into Downward Facing Dog.
Hold each pose for 5 seconds.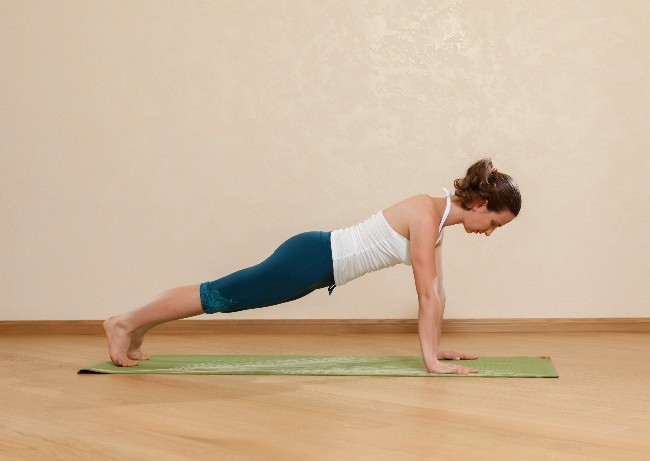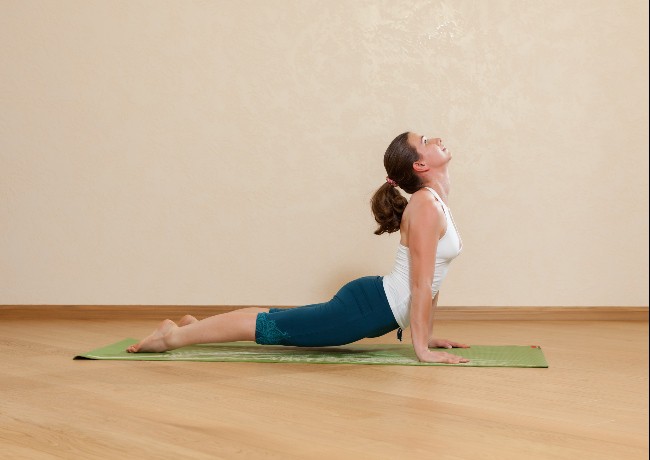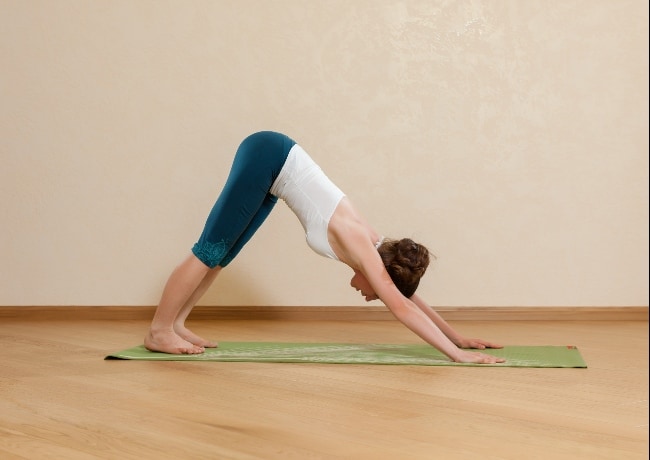 Here's a quick video from Yoga Vibes to show you how to do this mini-flow properly. She shows you how to do it the traditional way, as well as variations for beginners:
4. High Lunge
From Downward Facing Dog, lift your right leg up into the air, then bend it and bring it through to the top of your mat, in between both hands.
Ground your right foot firmly on the ground and extend through your back heel, hovering your fingertips over the mat.
Activate your core and use it to bring your top body into an upright position, bringing arms overhead.
Make sure your front knee is aligned over your ankle and your knee isn't passing your toes.
Hold for 15 seconds.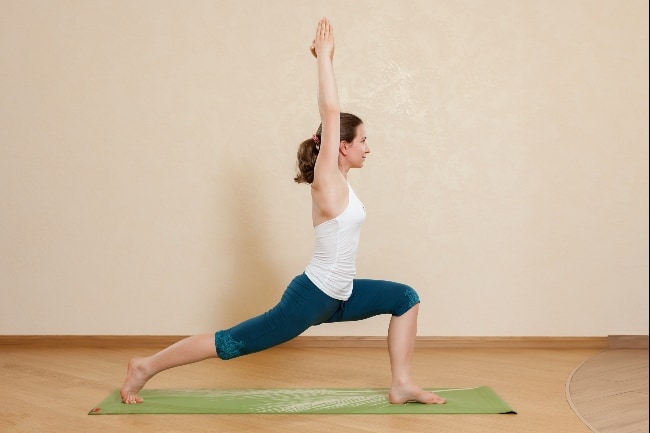 5. Chair Pose Variation
This is a variation of Chair Pose that really focuses on the core muscles a lot more than the traditional pose. You will feel it immediately after coming into the pose!
From High Lunge, keeping your front knee bent, bring your left foot up to meet your right, coming into traditional Chair Pose.
Keeping your arms over head, begin to hinge at your hips to hover your top body over your thighs.
It is very important to make sure you are not letting your chest collapse here to get the most out of the pose. Lift through your chest and use your core to keep your top body lifted.
Remember to breathe! I know you'll be feeling this after just a few breaths, but make sure to breathe throughout the duration of the pose and not to get caught up in the discomfort. Hold for 15 seconds.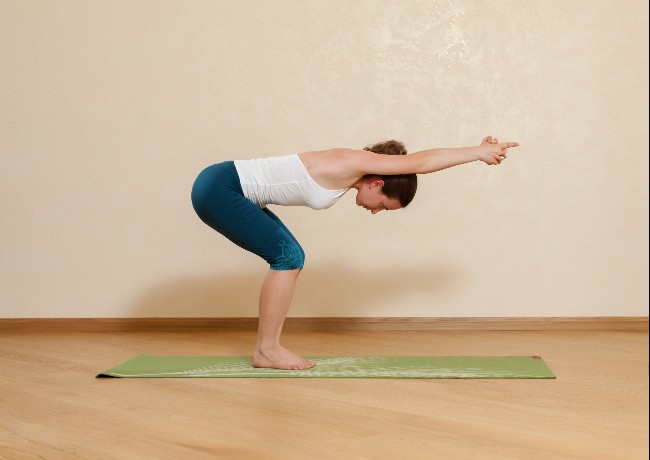 6. Back to Plank to Upward Facing Dog to Downward Facing Dog
Now we're coming back into our mini-flow! From the chair variation, you can come into this by dropping your hands to the floor and straightening your legs for a quick Half Forward Bend, then jumping or stepping back into plank, moving through the flow.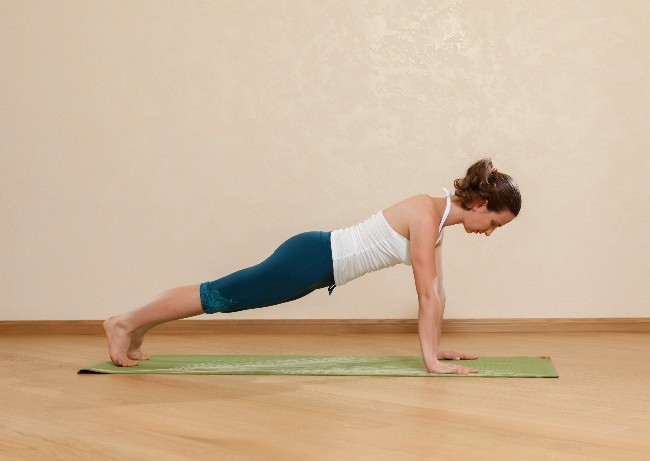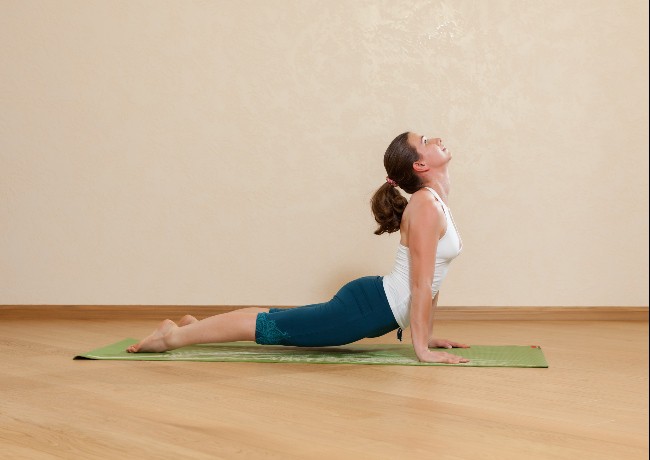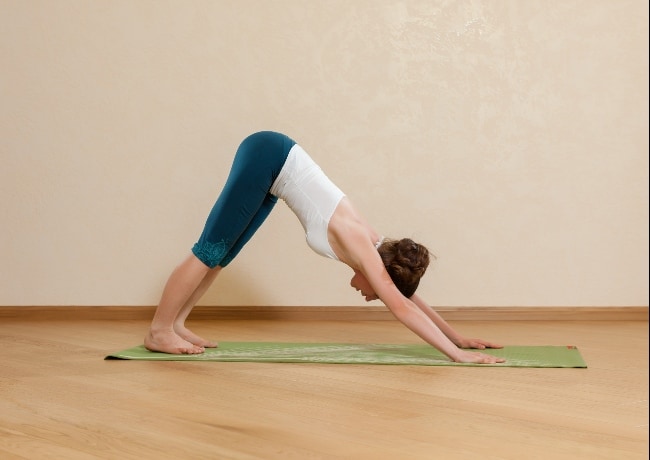 **Repeat flow 3 more times**
Repeat steps 1-6 three more times for a total of four rounds, remembering to switch sides each time.
7. Boat Pose
These last two poses focus highly on your core, and are a great way to test your strength! After you've completed your mini-flow, come to the ground from Downward Facing Dog into a seated position.
From a seated position, bend your knees with your feet flat on the ground. Place both hands slightly behind you.
Begin to tilt back so you are on your sits bones, then lift on foot off the ground at a time, until both are in the air.
Bring both legs to 90 degrees and bring your arms straight out in front of you are by your sides. This is Half Boat. You can stay here or come into the full pose by straightening both legs to form a "V" shape with your body.
Make sure to keep your back straight and your chest lifted throughout the pose.
Hold for 15 seconds.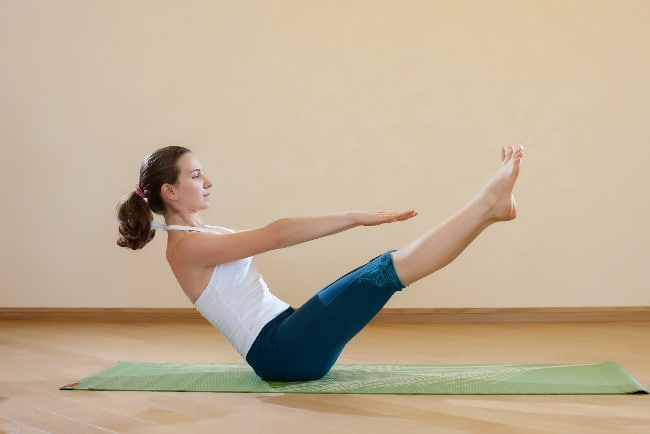 8. Leg Lift Hold
This might feel like a tortuous way to finish it off, but I promise your abs will thank you! A yoga teacher for one of the classes I go to always ends her practice with doing an intense pose like this before we rest.
From Boat Pose, slowly roll to the ground and lower your legs. You entire body should be resting on the ground now.
Place your arms by your sides flat on the ground, or underneath your butt for more support.
Lift one leg up into the air, flexing the foot towards you.
Now lift the other leg to meet it.
If you have tight hamstrings, this might be difficult. Placing your hands under your bottom definitely helps. If you can't bring your legs up all the way without bending them, bring them to a place where you can still keep both straight and are feeling your core activate.
Hold here for 10 breaths, then slowly lower them to hover the ground for another 10 breaths.
After, let your body completely relax on the ground and do a full body stretch.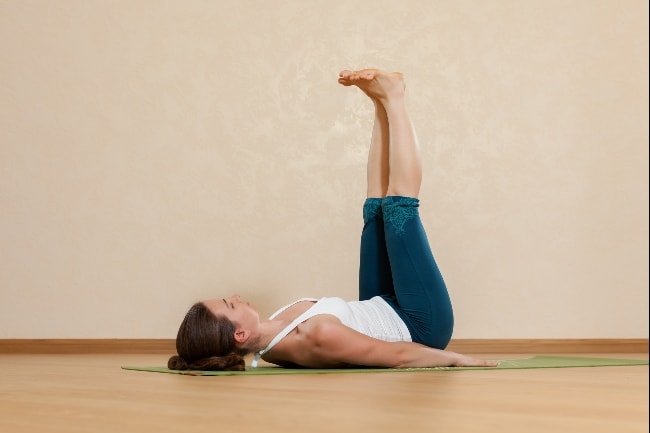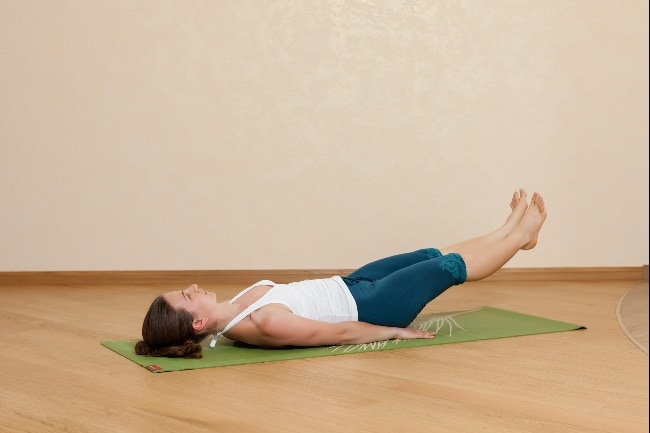 Now rest! Allow yourself to stay in Savasana for as long as you'd like, but at least for one minute. You worked hard and deserve it!
Don't have time to practice right now? Here's an infographic to pin for later!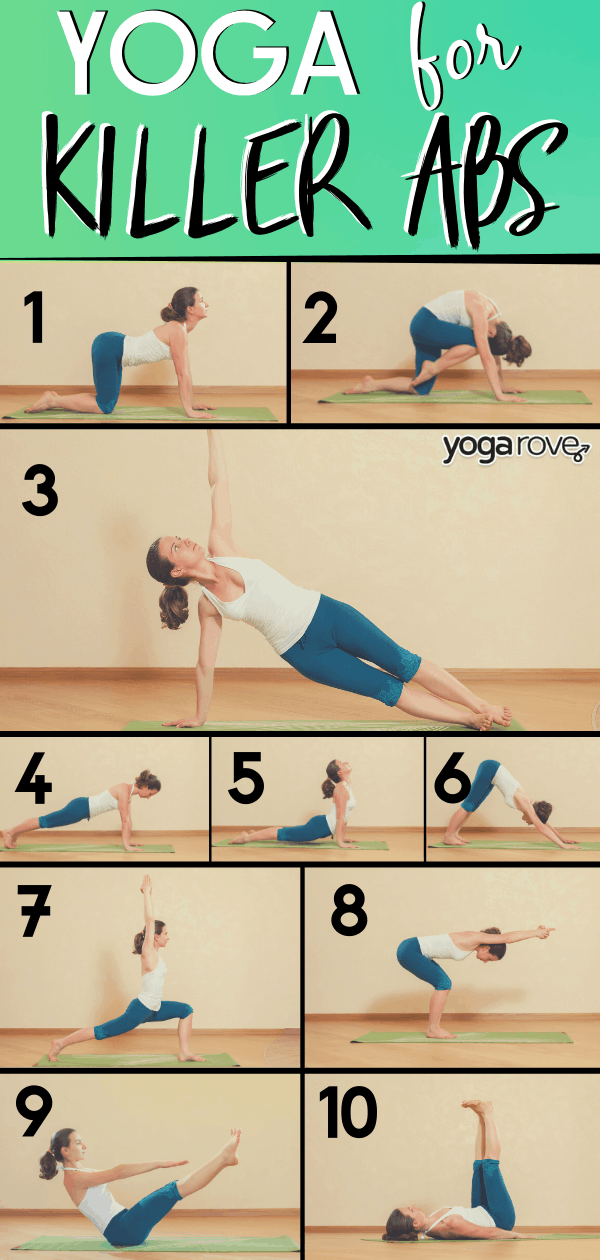 If you liked this routine, check out our others!
You can also get access to all of our FREE Yoga Printables by signing up for our Free Resource Library!