Yoga Bolster Buyer's Guide
Although yoga has been proven to be an extremely effective exercise to lose weight and increase your strength, one of its most well known qualities is to help you relax and unwind with practices such as restorative yoga, or gentle yoga.
Of course, tools are not 100% mandatory to have a successful and fulfilling practice, but they sure do help! And one of the tools I found to be the most useful is a yoga bolster.
A yoga bolster is simply a tool that is similar to a body pillow- it is meant to provide support for your body in poses so you can completely relax your mind and body. Yoga bolsters come in a bunch of different sizes and can be used for a variety of things to help you get the most out of your practice.
Benefits of Using a Yoga Bolster
Yoga bolsters can help you settle into poses by providing you with ample support, which in turn can help calm your mind and improve your flexibility. They are also widely used in restorative yoga or yoga therapy classes to help improve range of motion and release tension in tight areas of the body.
Some yoga bolsters, depending on shape and size, an also double as a seat cushion to sit on to improve your posture in poses, provide support for your knees, or to use during meditation practices.
There is a variety of yoga bolsters out there, many of them over priced for what they are. I've tried out and research a few different yoga bolsters for my practice and these are the ones I found to be the best buys:
1. #DoYourYoga Yoga Bolster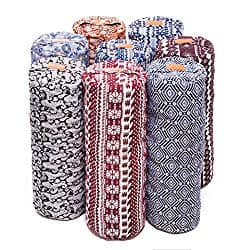 This is the bolster I currently use at home. I have the black and white design (see on Amazon), and must say it is very well made and holds its shape. The fact that the design is pretty doesn't hurt either!
The material inside is made of buckwheat shells, so it's super firm compared to other bolsters, which I find too soft. The outer material is comfortable and can easily be unzipped and taken off to wash when needed.
2. YogaAccessories MAX Support Bolster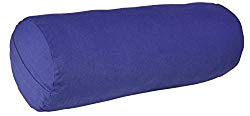 If you're looking for a bolster that is a bit larger than the #DoYourYoga bolster, Yoga Accessories has a great one (see price on Amazon). A lot of the reviews state they love how firm it is, and that it is indeed a very large bolster compared to others.
Larger bolsters can come in handy in restorative yoga when you want to completely relax and allow your body to rest in a pose.
3. #DoYourYoga Crescent Bolster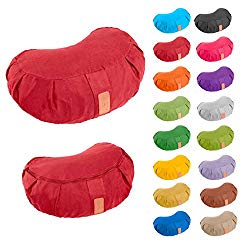 Some people might argue that this is not much of a bolster and more of a cushion, but I think this can be very versatile in one's yoga practice. The shape makes it a great cushion for seated posture support, and the size of it makes it perfect to be used as a support cushion for joints in certain poses.
Just like #DoYourYoga's full size bolster, the inside of this cushion is also filled with buckwheat, making it an excellent firm cushion that will hold its shape. The great thing about this is that the firmness and height are adjustable. You can easily remove buckwheat from the cushion to make the cushion softer.