A lot of beginner's flock away from using yoga blocks for some reason. I did when I first started practicing. I think it's because when we start something new we get impatient and want to already feel like the "expert" in the subject we are learning. And I guess for many beginners to yoga blocks remind them of what they can't do.
I advise you look at yoga blocks differently. Look at them as tools to help you do things you otherwise couldn't.
Blocks give you the ability to become longer, more balanced, and more level. And they aid in your progression to being able to do poses without them!
So that being said, please don't knock yoga blocks, because I think they are one of the most essential tools in a yoga practice in terms of helping you progress further.
But with that being said, when you look up yoga blocks online, you'll see there are tons of different ones to choose from. This is because different types help you in different areas.
Before you learn how to use yoga blocks in different poses, you need to understand the different materials, sizes, and uses for all of them.
Foam– This is the most popular form of yoga blocks today, and most likely what you'll see if you take a class at a studio. They are also the cheapest of all yoga blocks, but don't be fooled by the price. A good pair of foam yoga blocks can last you for years to come.
Foam blocks are softer and very lightweight. You want to use these for supportive and restorative poses, as they will be the most comfortable. Although you can definitely use these as support for extra length in standing poses.
Cork– Cork blocks are much heavier than foam blocks. They are great to use if you don't like the "sinking in" feeling that a lot of foam blocks give against pressure. A good pair of cork blocks will feel super sturdy and make you feel supported in every pose you do.
With that said, they do tend to be much more expensive than foam, but a good pair will last for years as well.
Wood- You don't really see wood or bamboo blocks used that much today, although in the history of yoga, this is what was used. These are also more expensive than foam, but will literally last you forever.
I would never suggest to use these in restorative poses, that would be extremely uncomfortable in my opinion. I would use wood or bamboo blocks mainly to assist with balance in inversions, or to provide sturdy support in other standing poses.
9x6x4: Wider than average blocks. These would be great to use in supportive postures as chest openers or if you are very inflexible and need extra height or support in some poses.
9x6x3: Average yoga block size. These are stocked in most studios and are pretty versatile for any needs.
9x6x2: Thinner than average size. If you have very small hands, thicker blocks may be hard to grip, so these are a good option. This would also be a good thickness to use to sit on in seated postures to provide extra support to keep your back straight.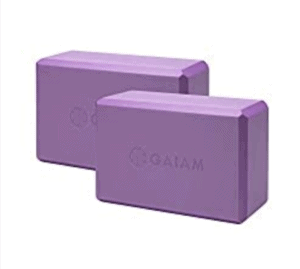 I feel like it's hard to go wrong brand wise with these- you don't need to spend a ton of money to get the top brand names. The biggest complaints I've heard from people that buy foam blocks are either that they are too slippery, TOO lightweight, or have a weird smell.
These blocks from Gaiam from are nice and sturdy and are the perfect width and height to use in most practices. 
Cork Blocks: Da Vinci Premium Natural Cork Blocks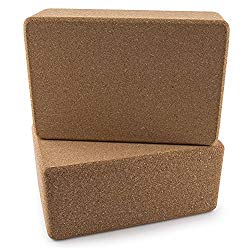 Cork, being more expensive than foam, are more vulnerable to quality mishaps. You want a sturdy, natural cork that will stick together and not fall apart after a few uses.
I have a set of Da Vinci Premium Natural Cork Yoga Blocks (see price on Amazon). The price for a set of two is equal to what one cork block usually runs for with the big brands. Not only are these priced great, but the quality is high.
The grip is good and they are heavy weight, which is perfect for using them for things such as practicing L sits. They will definitely hold up to the pressure and not sink in like most foam blocks do.
Wood Blocks: YogaBody Bamboo Handstand Blocks
The only reason you would most likely be interested in buying wood blocks is to improve or practice your arm balances. Therefore, you want a pair that are sturdy, non-slip, and comfortable enough that they won't ruin your hands.
This pair from YogaBody (see price on Amazon) are the best I have seen at the price. Keep in mind, bamboo and wooden blocks last VERY long, so they will be much more expensive than foam and cork blocks.
Although the difference in these blocks is that they are much smaller than traditional blocks, making them perfect to use if you are new to inversions or want to use them to do exercises to improve your core strength.
In the end, the type of blocks you get will really depend on your needs at the time. I had my foam blocks for years and recently purchased cork blocks because I want to start building up my core strength more to prep for handstands.
As time goes on, your needs for your practice will change and you may find yourself with a few pairs. As long as you make sure you purchase good quality and they aid in your practice, the money will be well spent.